Christmas Tree Poster
Shipped and can be stored in mailing tubes. No assembly required. Perfect for the Urbanite or any who are short of time.Made of 6 Mil vinyl. 4 year outdoor durability,7 year indoor.
Low glare luster finish.Competes with Real or Fake trees. Won't damage the walls. No tacks, frames, or tape needed. Can be put up and taken down quickly by almost anyone Stores in small space and can be reused year after year. Perfect for the Urban apartment, Office lobbies, or Break rooms, anywhere people share the spirit of the season.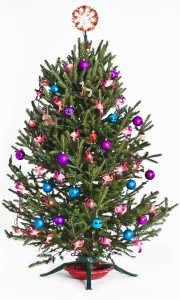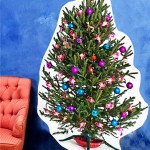 Pink Flamingo Christmas Tree
Small 11″ x 14″  – $7.00 + $5.00 Shipping & Handling –
Medium 20″ x 30″ – $19.00 + $7.00 Shipping & Handling –
Large 4′ x 3′ – $48.00 + $10.50 Shipping & Handling –
Junk Christmas Tree
Small 11″ x 14″  – $7.00 + $5.00 Shipping & Handling –
Medium 20″ x 30″ – $19.00 + $7.00 Shipping & Handling –
Large 4′ x 3′ – $48.00 + $10.50 Shipping & Handling –
Funky Christmas Tree
Small 11″ x 14″  – $7.00 + $5.00 Shipping & Handling –
Medium 20″ x 30″ – $19.00 + $7.00 Shipping & Handling –
Large 4′ x 3′ – $48.00 + $10.50 Shipping & Handling –
Classic Christmas Tree
Small 11″ x 14″  – $7.00 + $5.00 Shipping & Handling –
Medium 20″ x 30″ – $19.00 + $7.00 Shipping & Handling –
Large 4′ x 3′ – $48.00 + $10.50 Shipping & Handling –